The running back position may be a bit undervalued due to the nature of the NFL and the way offenses are currently run, but there's no denying the impact a good running back can have on a team. The 2013 NFL draft class is not highlighted by top-flight, surefire studs, but there are many players who should stir intrigue during the middle rounds. Let's take a look at this year's top running backs.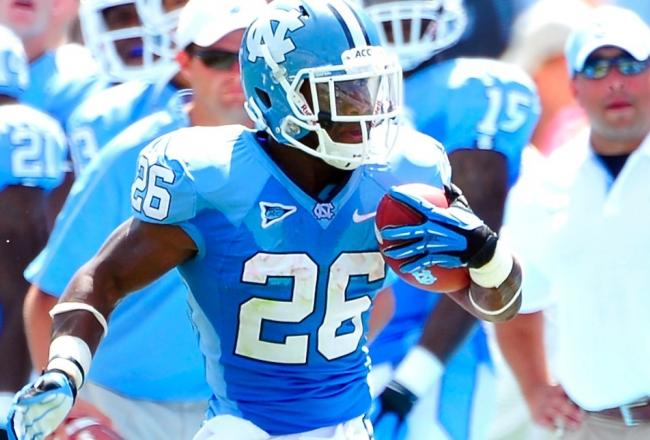 1)     Giovani Bernard – North Carolina/5'8"/202 lbs./4.53 40/RS-SO
Bernard starred for the Tar Heels during his collegiate career with over 2,500 rushing yards in two seasons, showcasing a versatile skill set that most teams will be looking for. He has experience in both the pro-style and up-tempo spread offenses, likely opening a lot of doors for him with the continued evolution of the pro game. His size may not be ideal, but his game speaks for itself, boasting a player bursting with potential. He is a hard runner with good speed, quick feet and elite elusiveness. He makes smooth, fluid lateral cuts and has spectacular vision to see the open running lanes and explode through them. Bernard runs with very good pad level and balance, fighting through arm tackles and staying on his feet. He has great hands out of the backfield and has plenty of experience doing so, catching 42 passes during his sophomore season. He does have minor durability concerns due to his size and an ACL injury suffered in 2010, but Bernard is the draft's top running back with loads of upside, minimal mileage and outstanding playmaking ability mixed with legitimate talent that few in this class actually exhibit. Bernard is first-round prospect but in today's NFL, he projects as a late-first or early-second round selection.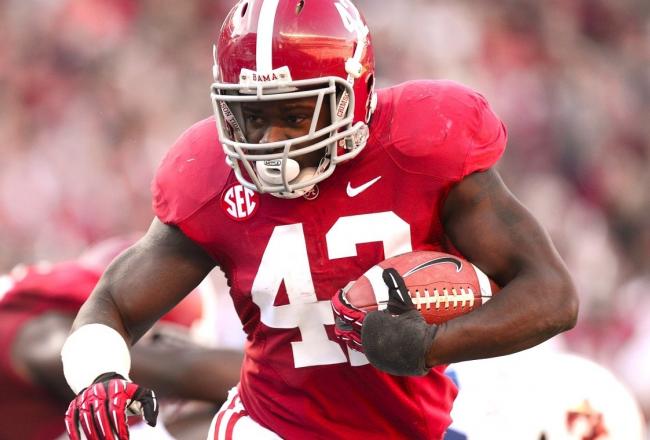 2)     Eddie Lacy – Alabama/5'11"/231 lbs./4.53 40/RS-JR
One of many recent running backs to come out of the football factory that is Alabama, Eddie Lacy is easily one of the best running backs in this year's draft. He excelled during the Crimson Tide's National Championship run, starring a punishing bruiser with electric speed. Lacy is a playmaker with spectacular vision and agility to break to the outside and turn nothing into the play of the game. He is blessed with all-around ability, adept as a blocker and receiver out of the backfield with the football intelligence and athleticism that scouts look for in a NFL starter. Lacy has had some nagging injuries and certainly did benefit from playing behind an All-American offensive line full of top NFL prospects, but his potential is undeniable. He runs with such power and never quits, bulldozing through opposing defenders at will. He could very be the first running back selected in this year's draft—and most expect him to be. He will likely get drafted within the first two rounds and could even crack the top 20.
3)     Joseph Randle – Oklahoma State/6'0"/204 lbs./4.63 40/JR
Randle is overlooked because he comes from a pass-heavy offense at Oklahoma State that overshadowed him with the likes of quarterback Brandon Weeden and receiver Justin Blackmon. But the well-built former Cowboy is one of this draft's elite running backs. Randle runs a bit too upright at times, but has the speed and acceleration to make up for it. He lowers his pads and drives through defenders, gaining good chunks of yardage often. He bounces off defenders with ease but could use some improvement with his vision as he doesn't always spot the open lanes. Playing in that Cowboys offense, Randle has dependable hands and was very productive as a receiver out of the backfield with 108 catches. That should play favorably for him in a game that is becoming increasingly pass-first. With the importance of the running back dwindling, Randle will not be high up on draft boards but could still go as high as the second round.
4)     Stepfan Taylor – Stanford/5'9"/214 lbs./4.76 40/SR
Taylor starred for Stanford, though in the shadow of quarterback Andrew Luck, placing his name within the school's record books with a quietly productive collegiate career. He's short in stature but is built thick with a solid frame. It shows in his running style, bulldozing through defenders and battling for extra yardage on every carry. Taylor is not a lightning quick runner, but he is a well-balanced threat that does most things exceptionally well. He fares best as an inside runner, often failing to follow his blockers when the play calls for an outside run. He could use improvement in his vision overall, not always spotting the cutback lanes which could simply be another issue when asked to run outside the tackles. Few are as tough as Taylor with the football in his hands, and although he is not an outstandingly gifted athlete, he has all the tools necessary to be a successful No. 1 back.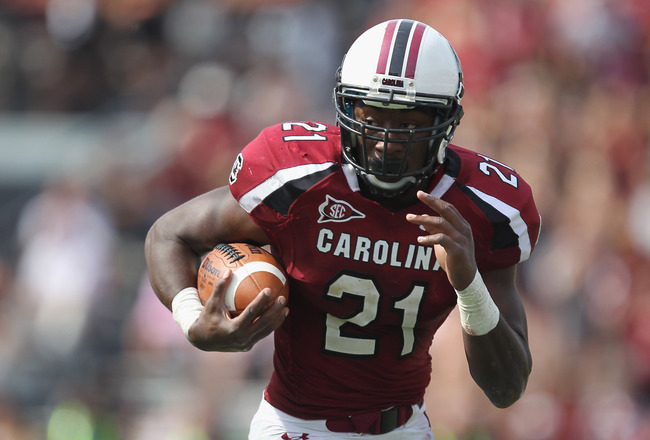 5)     Marcus Lattimore – South Carolina/5'11"/221 lbs./4.62 40/JR
Many are terrified by two devastating injuries Lattimore suffered to end his career at South Carolina, and understandably so. Before his injuries, Lattimore was an unquestionable NFL talent with the potential to be one of the game's best. He still has those traits, from his initial burst through the line of scrimmage to his footwork, technique and vision, but how much will his injuries affect his play? Lattimore is a hard-nosed runner that refuses to go down and compares well, ironically, to Adrian Peterson. If he can have the type of recovery Peterson had from his ACL injury in 2011, or even that of former 2003 first-rounder Willis McGahee, Lattimore could have a good career as one of the league's better backs. History is not on his side, but his potential is worth the risk as an early-round pick for any team looking to bolster their rushing attack but not with an immediate need as he may not be ready to go in 2013.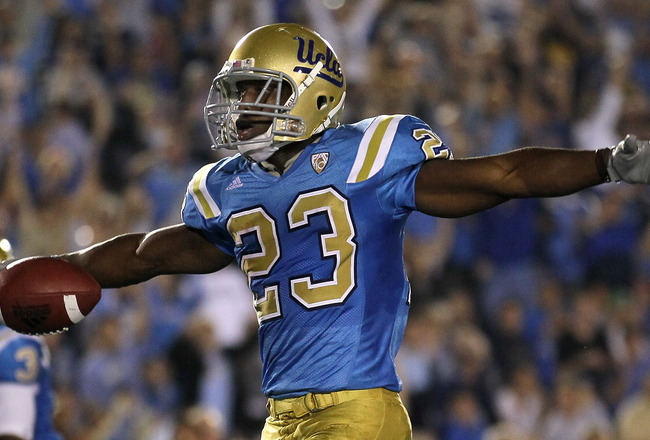 6)     Johnathan Franklin – UCLA/5'10"/205 lbs./4.49 40/RS-JR
Franklin is one of the most intriguing prospects in this draft with a nice combination of blitzing speed and power. He runs at a low pad level and drives with his legs, fighting for every yard. He is a shifty runner that is well known for breaking defenders' ankles en route to some big gains. Franklin looks a lot like David Wilson or fellow UCLA alum Maurice Jones-Drew on film, always moving and a threat to take any carry to the house. He did a lot for himself on an underwhelming Bruins football team, setting school records for rushing yards and all-purpose yards. Unlike Jones-Drew but much like Wilson, Franklin has struggled with ball security and will drastically need to improve in that department if he wishes to be a successful running back at the professional level. He also struggles in pass protection and has little to show for as a receiver out of the backfield. The lack of such traits leaves his potential as a questionable concern but with some coaching and practice, Franklin could develop into one of the better running back prospects in recent years.
7)     Andre Ellington – Clemson/5'10"/199 lbs./4.61 40/RS-SR
Ellington plays much faster than his combine numbers would indicate. He hits the hole with great acceleration and has a knack for making something out of nothing. He is a very shifty runner with smooth, fluid change-of-direction skills. Ellington does not a have a lot of wear and tear, which can be a good or bad thing, depending on how you look at it. His inability to ever carry the ball more than 20 times often in his career indicates that he would likely benefit as part of a running back-by-committee rather than as a featured back, but the potential is there. He doesn't have a lot of patience and runs directly into defenders as a result. He would benefit from bulking up a little bit as his lean frame causes him to go down often on first contact. Ellington should be an early option for most teams, with a likely best-fit in an offense that utilizes the zone-blocking scheme.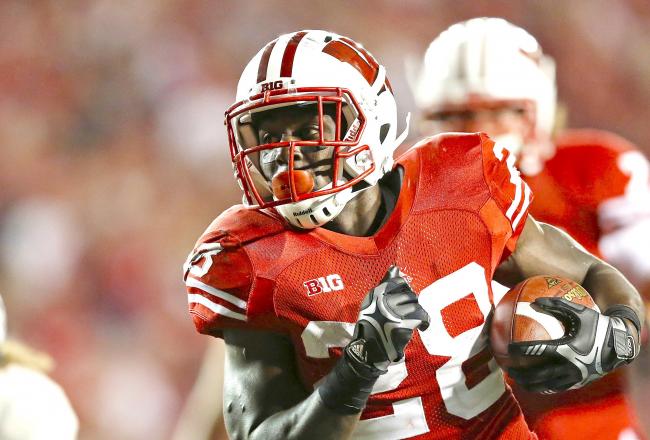 8)     Montee Ball – Wisconsin/5'11"/214 lbs./4.66 40/SR
Though not overly fast, Ball hits the hole quickly and bursts into the second level. He always fights for extra yardage, powering through arm tackles. Ball does not possess any one spectacular trait but is good at just about everything. He could use some refinement in his pass protection; there are better players when it comes to picking up the blitz. He has benefited from playing behind an All-American offensive line that has produced a handful of top-ranked NFL prospects. He has a lot of carries (nearly 1,000) already under his belt, which could be a concern for some scouts when considering the shelf life for a running back. But Ball has continued to stay healthy and productive. The former Badger will have detractors, but he should be selected in the very early rounds of the draft with the potential to develop into a solid No. 1 back.
9)     Le'Veon Bell – Michigan State/6'1"/230 lbs./4.60 40/JR
Bell could really be a hit-or-miss prospect. With solid running power and above-average speed, the former Spartan could fit in most anywhere. But he could also flop like many of the recent running backs to come out of the Big Ten conference following highly-productive careers, such as Heisman Trophy winner Ron Dayne. He lacks ideal breakaway speed to be a big playmaker and enjoys going east-to-west far too much to expect consistent success. He's not the prettiest when working in pass protection and could benefit from some good coaching in that department. Still, Bell is a tough runner that runs through would-be tackles with ease. He runs with a good pad level and has dependable lateral agility. Bell may not fare well as an every-down back in the NFL, but he can be a very serviceable contributor in the right offensive scheme.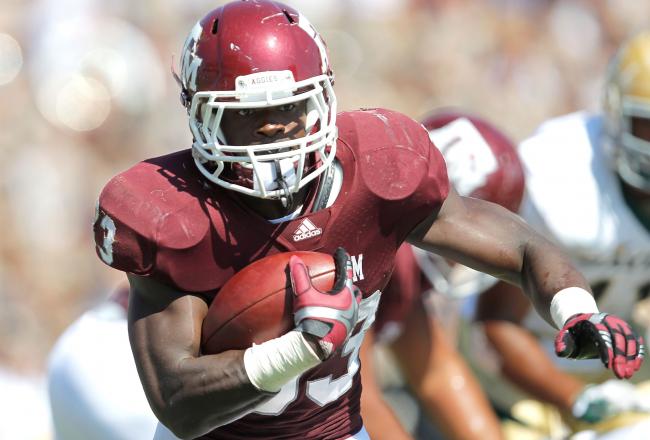 10)   Christine Michael – Texas A&M/5'10"/220 lbs./4.54 40/SR
Michael is an exceptional talent who will only keep himself from being something special. He has an unparalleled combination of speed and power, hitting the hole harder than almost everyone in this draft class. He shows superb vision, is quick to make cuts and accelerates through would-be defenders without a hint of hesitation. Michael has a concerning history of leg injuries which ended his sophomore (broken leg) and junior (torn ACL) campaigns prematurely. His maturity and attitude issues, however, are a far greater concern. If he could control himself, he may have been a starter in 2012 but was instead rendered to reserve duty under head coach Kevin Sumlin. Despite all of this, Michael is still a desirable talent with all of the traits teams look for in a feature back. If a team believes they can get a handle on his issues, he will be a nice pick up somewhere between the second and fourth rounds.
11)   Mike Gillislee – Florida/5'11"/208 lbs./4.55 40/SR
Gillislee has prototypical size but does not use it as would be expected. He underperformed for much of his collegiate career until his senior year, where he finally broke out with over 1,100 yards rushing and 10 touchdowns for the Gators. He is not particularly fast but is an outstandingly elusive runner with good lateral agility and vision. He isn't a noteworthy pass blocker but gives good effort, which is more than you can say for most. He runs much too upright and would benefit from a more compact approach. At this point, however, it's unlikely a successful change could be made. Based on Gillislee's natural progression, as well as his sudden leap in 2012, it's possible the best is yet to come. Continued work on catching passes, pass protection and ball security will help this mid-round prospect's development at the pro level.
12)   Jawan Jamison – Rutgers/5'8"/203 lbs./4.68 40/RS-SO
The comparisons have already been made to former Rutgers star Ray Rice, and with reason. Jamison is a similar runner, capable of running between the tackles or to the outside. He runs hard and does not shy away from contact. He isn't fast, but he is elusive with good vision and the ability to ensure some kind of gain even when his back is against the wall. Like Rice, Jamison is an exceptional receiver out of the backfield, adding a nice dynamic to his already versatile skill set. He is not believed to have the build to be an every-down back, but neither was Rice. Jamison does not project as high as Rice did—he went in the second round—but his talent, potential and similarities will entice teams in the middle rounds.
13)   Kenjon Barner – Oregon/5'9"/196 lbs./4.52 40/RS-SR
Barner may not have the speed some of the backs that have come out of Oregon recently do, but he's every bit as dangerous. In his first year as a starter, Barner led all seniors with 23 touchdowns and emerged as one of college football's elite running backs. He is an impressive athlete with the potential to develop into a capable back at the pro level in the right system with proper coaching. He is certainly no a power runner by any means and cannot do much after contact, but his elusiveness and home run threat will keep most defenders at bay. Barner will likely serve as a change-of-pace type back with playing time on passing downs where he can showcase his good hands and in the return game. He must cut down on his fumbling problems if he wishes to have a lasting career. He would likely benefit most in a read-option system similar to what he played in at Oregon, but should be a mid-round option for most teams regardless.
14)   Knile Davis – Arkansas/5'11"/227 lbs./4.37 40/RS-JR
Davis has severe injury concerns that sidelined him for most of his collegiate career. But in light of those red flags, Davis is an intriguing and tempting prospect. He boasts a phenomenal combination of speed and power. He displays very good vision and always churns his legs for some extra yardage when given the football. He had some fumble troubles and it's hard to ignore in the game film. His problems will need work, but they are not uncoachable. In the middle rounds, Davis is worth the risk with the potential to be a high-reward option for a team in need of a player capable of being that every-down back.
15)   Zac Stacy – Vanderbilt/5'8"/216 lbs./4.55 40/SR
Stacy packs a lot of punch in a small yet thick frame with good speed behind it. He was a productive back for the Commodores, becoming the first back with two consecutive 1,000-yard seasons in school history to cap off his collegiate career. He runs through defenders, battling for every yard and excels as an inside runner. He does a great job breaking through arm tackles and does a nice job hiding behind blockers to avoid defenders at the line of scrimmage. He did not catch a lot of passes out of the backfield at Vanderbilt. He seemed to spend a lot of time fighting injuries, which could be cause for concern considering the style of runner Stacy is. Stacy is a promising mid-to-late round option for a team looking to add some power to their offensive attack.
16)   Cierre Wood – Notre Dame/5'11"/213 lbs./4.56 40/RS-JR
Wood is a well-balanced runner with good vision and instincts with the football in his hands. He is a fluid mover with desirable change-of-direction skills and an innate ability to make a big play out of nothing. He is more quick than he is fast, not blinding you with his straight-line speed but exploding through the hole and bursting into the open field. He has a tendency to dance a bit at the line of scrimmage, unsure of the blocks in front of him and lacks ideal power to run between the tackles. He could use improvement in pass protection, but he does show a ton of upside with the potential to develop into a dependable ball-carrier at the pro level. The former Fighting Irish star will likely go in the middle rounds on day two and could prove to be a pleasant surprise with some coaching.
17)   Theo Riddick – Notre Dame/5'10"/201 lbs./4.68 40/SR
With experience at running back and receiver, Riddick is a versatile athlete with a desirable skill set at both positions. In his senior season, his return to the running back role, Riddick excelled while splitting carries with Cierre Wood. He is not unbelievably fast but does have quick feet and lateral agility when attempting to escape defenders. He runs hard and keeps his feet churning, fighting for the extra yard. He does not boast prototypical build for a pro back and struggles in pass protection as a result. He has been known to run directly into blockers or oncoming tacklers, displaying subpar vision. He should be looked at as a mid-round option with similar traits to that of Kansas City's Dexter McCluster with much less speed and game-changing ability.
18)   Kerwynn Williams – Utah State/5'8"/196 lbs./4.48 40/SR
Williams has a solid foundation as a return specialist with room to blossom into a top-notch running back at the next level. He is an elusive, speedster with the ability to take any play in for a score. He displays good vision and hands out of the backfield, which should open up opportunities for him as a third-down back early on. Too often Williams is downed at the line, unable to pick up yardage after first contact. He does hold onto the football, which is a key positive for the former Aggie. His size will cause durability concerns and he is not a spectacular blocker, but his play-making ability makes him an intriguing mid-round option.
19)   Ray Graham – Pittsburgh/5'9"/199 lbs./4.80/SR
Graham is undersized and, as his 40-yard dash time would indicate, not as fast as you would like him to be. But the former Panther plays much faster with shifty feet and great lateral movement to elude defenders. He shows great vision, making the right reads and reactions to the defense. He is not afraid to dip the shoulder and run over defenders to pick up extra yardage. He did suffer an ACL injury in 2011, but carried the football 222 times in 2012 with no issues. Graham does have the tendency to tiptoe behind the line of scrimmage looking for something big that is not there. He has much to offer on special teams, though he hasn't played in that role since his sophomore season, and could develop into a good change-of-pace or third-down option.
20)   Stefphon Jefferson – Nevada/5'11"/213 lbs./4.68 40/JR
Jefferson is an underrated talent that has yet to garner the attention he deserves; sometimes that's for the better. He has great size for a prototypical back with average speed and catches the ball really well out of the backfield. He doesn't always read plays real well and relies too much on his blockers, but was highly productive during his junior season. High total of carries (375) last season could be a minor concern, but shows no durability issues thus far. Jefferson should be drafted but gauging where that may be is a bit more difficult. I like him somewhere in the late-middle rounds.
21)   Miguel Maysonet – Stony Brook/5'9"/209 lbs./4.54 40/SR
Despite coming from small school Stony Brook, Maysonet is not someone to be overlooked. He had big games against big programs like Syracuse, carrying the football. He uses his small stature to his advantage, hiding behind lead blockers and exploding through the line of scrimmage for big chunks of yardage. Maysonet has been coached to be a very patient runner, waiting for an opening and hitting it with top-flight speed. He will need to show more as a receiver at the next level, but could be selected anywhere from the middle to later rounds of the draft.
22)   Rex Burkhead – Nebraska/5'10"/214 lbs./4.73 40/SR
Burkhead is a bruiser. Underrated during his time at Nebraska, he runs with brute force and seemingly finds pleasure in bowling over defenders. He shows excellent balance at 210 pounds and the patience needed to wait for opening and burst right through it. The former Cornhusker is not a big playmaker, but has quick feet when approached by defenders. He also boasts a good pair of hands, making him a solid all-around athlete out of the backfield. Burkhead will not likely be high up on many draft boards but should have his name called by day three.
23)   Montel Harris – Temple/5'8"/208 lbs./4.68 40/RS-SR
Harris does not look like an every-down back, but he does display dependable hands and pass blocking that could make him a serviceable third-down option. He shows fluidity in his running, though he is not fast, and is surprisingly elusive with the football in his hands. Past knee problems and a dismissal from the Boston College program are key red flags. Harris was productive when he saw playing time but has a lot to do to prove he can do so at the next level.
24)   Dennis Johnson – Arkansas/5'8"/212 lbs./4.52 40/RS-SR
Another of many undersized backs, Johnson enters the draft with very limited experience. With that experience though, Johnson stepped up for the Razorbacks and filled in for injured starter Knile Davis wonderfully. Johnson is a versatile playmaker with spectacular vision and an unparalleled ability to move laterally. Johnson is a good runner between the tackles, using his short stature to his advantage, but likely projects better a return specialist where he starred at Arkansas. His potential as a game-changer will make him a popular prospect in the later rounds of the draft.
25)   D.J. Harper – Boise State/5'9"/211 lbs./4.52 40/RS-SR
Harper had a productive senior season with over 1,100 yards and 15 touchdowns for the Broncos. He is not a burner by any means, but does have some good speed. He uses his size to his advantage, hiding behind blockers and bursting through the line of scrimmage. Talent is not as much of a question as his proneness to injuries, however. He has already had two ACL injuries and had a tendency to get dinged up over the course of the past two seasons.
26)   Michael Ford – Louisiana State/5'10"/210 lbs./4.50 40/RS-JR
Ford has prototypical running back size with good speed and acceleration. He struggled to earn playing time at LSU in a crowded backfield that likely contributed to his early entry into the draft. His junior season was underwhelming and revealed struggles in pass blocking and as a receiver out of the backfield. He does show good vision and reads his blocks well, making solid cuts to get into the open field. Ford would likely benefit best as a late-round selection with time spent on special teams, maybe as a kick returner, while battling for carries on offense.
27)   Onterio McCalebb – Auburn/5'10"/168 lbs./4.34 40/SR
McCalebb may not be blessed with NFL size, but his track star-speed will be enough to entice most teams. The former Auburn Tiger dropped jaws at the combine with his 4.34-second 40-yard dash and a highlight reel of plays showcasing just how lethal he can be with the football will play in his favor. His size will be a concern due to durability at the running back position, but he can certainly be a valuable commodity as a return specialist. McCalebb does not have the hands or the blocking ability to be a serviceable pro back. He should be a great late-round steal for any team looking for a game-changer in the return game.
28)   George Winn – Cincinnati/5'11"/218 lbs./4.75 40/RS-SR
Winn stepped up for the Bearcats in 2012 and delivered with a productive senior campaign. He has just one year of experience as a starter under his belt but proved to be a quiet leader in the locker room. Winn is a hard-nosed runner who always battles for the extra yard. He could use some work in pass protection and did not see much time as a receiver out of the backfield in college. He may benefit best as a change-of-pace back on third downs and in the red zone rather than as a feature back.
29)   Robbie Rouse – Fresno State/5'5"/190 lbs./4.80 40/SR
Despite holding several school records for the Bulldogs, Rouse's diminutive size and lack of power is not ideal at the pro level. He does run low to the ground and follow his blockers well. Unfortunately, he doesn't have the speed or quickness necessary to make up for his size disadvantage. Nicknamed "Mighty Mouse," Rouse is a respected hard worker and leader. He could be a valuable addition to the special teams unit as an undrafted free agent.
30)   Mike James – Miami/5'11"/233 lbs./4.53 40/SR
James got his chance to shine after Lamar Miller left for the draft last season. But he flopped, tallying just 621 yards in 12 starts. James has favorable pro size but there is nothing he really does outstandingly noteworthy. He should get a chance with someone as an undrafted free agent.
31)   Washaun Ealey – Jacksonville State/5'10"/210 lbs./4.65 40/SR
An underrated talent and former Georgia Bulldog, Ealey could be a late-round steal in this year's draft. He showed flashes of brilliance during his time in the SEC, where he racked up 811 yards as a sophomore. Ealey is a well-balanced runner who does most things well including catching the football. His maturity could be a question mark, however, after his dismissal from the Bulldogs football team in 2011.
32)   Spencer Ware – Louisiana State/5'10"/228 lbs./4.62 40/JR
Ware played as part of a running back-by-committee and did not have a good junior season. Still, he decided to declare for the draft in hopes that someone may see something of value in him. Ware is an aggressive, downhill runner with a penchant for bowling over defenders. His best fit at the pro level could be as a third-down back.
33)   Chris Thompson – Florida State/5'7"/192 lbs./4.42 40/SR
Injuries have sidetracked what could have been a wonderful collegiate career for Thompson. That will be teams' greatest concern as his skill set is top flight. He has amazing speed and vision, as evidenced by his abuse of the Wake Forest defense this past season. He is a bit undersized at 5'7" and 192 pounds, but could shine if he can stay healthy and is used properly.
34)   Curtis McNeal – Southern California/5'7"/190 lbs./4.43 40/RS-SR
McNeal never turned out to be quite what the Trojans had hoped. He did prove to be a big-game player in 2011, racking up four 100-yard games in conference play. Though he is not a great receiver with only 10 receptions in his collegiate career, he excels as a pass blocker with some room for improvement.
35)   Isi Sofele – California/5'8"/205 lbs./4.52 40/SR
Despite his stature, Sofele is a downhill runner with tons of power. He carried the football a lot in read option and shotgun sets, which could make him an enticing commodity for teams running similar offenses. He did not see time as an every-down back during his time at Cal and would likely benefit more as a change-of-pace back at the pro level.
36)   John White – Utah/5'8"/188 lbs./4.48 40/SR
White is a quick, shifty runner whose size puts him at a grave disadvantage at the pro level. He runs with little to no power, forcing his offensive linemen to do a lot of the grunt work to pick up a positive gain. As a result, White projects better as a change-of-pace back with some skills to offer on special teams.
37)   Ronnie Wingo Jr. – Arkansas/6'2"/225 lbs./4.50 40/SR
A former high school sprinter, Wingo has spectacular straight-line speed. He never got much of a chance to show what he had at Arkansas, but he did show some glimmers of talent in 2011 after Knile Davis went down with an injury. He has great hands out of the backfield, catching over 20 passes in his sophomore and junior years. With such little playing time, Wingo could still have be an untapped talent looking for the right opportunity.
38)   Matthew Tucker – Texas Christian/6'1"/221 lbs./4.55 40/SR
Tucker boasts solid size and speed, he did not have a big senior season for the Horned Frogs. He had much better sophomore and junior campaigns and finished his career as one of TCU's best all-time backs. He has all the measurables scouts look for in a pro running back. His ability as a receiver out of the backfield may make him an enticing option as an undrafted free agent.
39)   C.J. Anderson – California/5'8"/224 lbs./4.60 40/SR
A junior college transfer to Cal, Anderson is a shifty runner with good vision. Has size comparable to Maurice Jones-Drew or Ray Rice and uses it in a similar fashion, crossing the line of scrimmage before the defense ever sees him with the football. Does not boast any distinguishing traits, however, and will likely have to earn his place as an undrafted free agent.
40)   Matt Brown – Temple/5'5"/165 lbs./4.40 40/SR
Brown packs a lot of punch in a tiny frame. He uses his size to his advantage, hiding behind blockers and bursting through the line of scrimmage. His size will be a question mark at the pro level, but his speed may allow him to contribute in the return game at the very least.
Louis Musto covers the NFC East at GridironGrit.com. Follow @LouisMusto and @GridironGrit on Twitter!