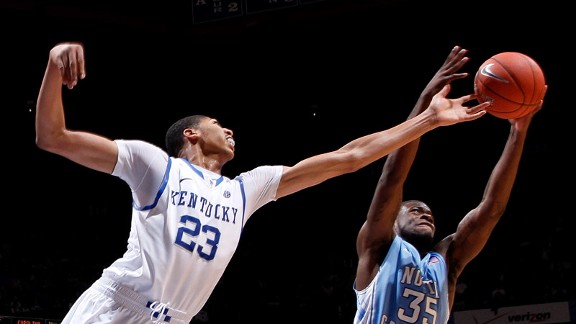 Selection Sunday is through. The matchups are set, Washington fans are crying, and if you listen real close, you'll hear mad typing across the country as millions fill out their brackets.
So, who do we have at GridironGrit? Here's my picks for the South Region, including upset alerts, and the most overrated/ underrated teams. I'll cover the best match of the first two rounds (not counting play ins), and then analysis of every game from the Sweet 16 on. A link to my complete bracket is here.
First Round 
8. Iowa State vs 9. Connecticut – Louisville, KY – Thursday, March 15, 9:45PM EST on CBS
Player to watch – Royce White, Iowa State, PF. White is a beast, an absolute beast. He's 6'9″, 270 lbs, and essentially the entire Iowa State team inside the paint. White leads the Cyclones in points, rebounds, assists, you name it. If you can't stop White than he may singlehandedly lead Iowa State to the Final 4.
This is one game troubling many experts and bracketologists. UConn is a Big East team, they've beaten Florida State, Harvard, Notre Dame… that's it? Really? Yes, in fact they dropped three to Syracuse, lost against bottom dwellers Providence and Rutgers, and ultimately didn't play will inside the Big East.
UConn's nonconference RPI is what stands out – 10. Compared to their overall RPI rank of 32, that's really good. If you put UConn in a conference like the Pac-12 or Big Ten and you have a possible conference champion.
Iowa State is a more half-and-half team. The Cyclones have had major conference wins against Kansas, Baylor, Kansas State, and Texas this year (although dropping several to the same teams). The margins between Iowa State and UConn when it comes to rebounds and blocks is shocking.
Why is this game important? The winner could potentially beat Kentucky. Kentucky has home court advantage, but with several players on a slump, look out. Both the Huskies and Cyclones are evenly matched, and I predict it will go down to the wire with UConn winning 71-67.
Next – 5. Wichita State vs 12. VCU. The winner has massive bracket busting implications. Can VCU repeat last year?
Easiest First Round 3-14+ – 3. Baylor vs 14. South Dakota State. The UNLV/ Colorado game will be a good one, and the Buffs play good basketball. SDSU, however, won't be close to the Baylor Bears. I'm predicting a 10 point+ win.
Second Round 
10. Xavier vs 2. Duke – Greensboro, NC – Sunday, March 18th
Player to watch – Tu Holloway, Xavier, G. Make no mistake, if Xavier wins, it will be largely due to Holloway. He puts up an average of 17 points , five assists, and four rebounds per game. Combined with Mark Lyons, that's almost the entire Xavier offense. He's incredibly fun to watch and has the ability to take down the Blue Devils.
Here's my first major upset prediction: Xavier will beat Duke in the second round. If Notre Dame beats Xavier, they may beat Duke, but it's not as likely. Duke's perimeter defense is weak, and Xavier has two phenomenal backcourt players.
The three point game will be what defeats Duke. Granted, the Musketeers defense is strong. The best in the Atlantic 10. Expect a drawn out game between these two.
Statistically, Duke has the advantage. They have a much higher RPI, in fact the best out of conference, but have fallen several times. They've been destroyed by Ohio State and North Carolina, beaten by Temple and Miami FL… this Blue Devil team is far from Final Four worthy.
Xavier has notable wins over Vanderbilt 82-70 and Cincinnati 76-53. Overall, however, they're 9-11 against top 100 teams.
Why is this game important? Duke is overrated, consistently, nearly every year. As a number one last year they got creamed by number five Arizona. In 2009 Duke was a number two and got beaten by number three Villinova. In 2008, Duke, as a number two, was beaten by number seven West Virginia. In 2007, Duke was beaten in the first round by number 11 VCU.
Granted, 2010 is the exception to the rule. Duke was ranked number one and got all the way to the end, defeating Butler for their first title since 2001. This year isn't an exception. Xavier is the team to be beat Duke this year, 69-67.
Next – 1. Kentucky vs 9. Connecticut. UConn has a serious chance to upset Kentucky, and the Wildcats are awfully cocky.
Easiest Second Round – 6. UNLV vs 3. Baylor. Baylor chokes, it's true. It's the reason they didn't win it all in 2010. But UNLV isn't that great and only gets into the second round by beating an overrated Colorado team.
Sweet 16
1. Kentucky vs 5. Wichita State – Atlanta, GA – Friday, March 23
Player to watch – Anthony Davis, Kentucky, PF. Davis is the most likely candidate for SEC Freshman of the Year. He's 6'10″, and averages a double-double with 14 points and 10 rebounds per game. Davis is an outstanding player and a joy to watch.
Both teams have something to prove. Kentucky failed in the Final Four last year and haven't won the tournament in over a decade. Wichita State is making its first appearance since 2006 when they took down number two Tennessee before losing to cinderella team George Mason. Last year, Wichita State won the NIT.
Garrett Stutz is seven feet tall, and an absolute tank inside the paint. He'll be the reason, for the most part, Wichita State shuts Syracuse down. The Shockers have a great inside game, free throw percentage, know how to play defense… what's the problem? The current Shockers team has never been here before. They've never played in March Madness, and it's a whole new game.
Kentucky dominates, it's their business. However, foul trouble has stopped them before as the Wildcats aren't a very deep team. Their bench is weak and if Stutz and co. can create fouls, things look bad for Kentucky.
The bottom line – The Wildcats aren't deep, Wichita State plays good defense, and on a good day, the Shockers can shoot from anywhere. Kentucky goes down, 76-71.
3. Baylor vs 10. Xavier – Atlanta, GA – Friday, March 23
Player to watch – Pierre Jackson, Baylor, G. He leads the Bears with 13 ppg, as well as five assists. Jackson is also an outstanding free throw shooter, which was largely the reason they beat Texas earlier in the year. Baylor is very well rounded, but it's Jackson who'll lead the charge on court.
It's not an easy road for Xavier. They have Notre Dame to start, which will be a very tough, defensive game. Notre Dame is favored, and is too balanced to focus on any one player. Xavier has the defense to shut down Notre Dame, moving on to the always fierce Duke. Duke may be overrated, but they're an outstanding team no doubt about it. Coach Krzyzewski knows how to win, and Xavier will have to be at their absolute best to beat Duke.
Baylor has it much easier. South Dakota State will be a picnic, a 15 point victory. UNLV is tough, but nowhere near the Baylor level. Colorado isn't either should they defeat UNLV. In reality, Baylor's first challenge will be in the Sweet 16.
Pierre Jackson, Perry Jones, and Brady Heslip are a dangerous trio. Jackson is an all around scorer, Jones is the big man inside, and Heslip is dangerous from beyond the arc. Unless Xavier can stop all three, Baylor will get the W.
The bottom line – Baylor is too good. Expect an outstanding performance, but after a defensive game against Duke, Xavier won't be prepared to take on the fast Baylor Bears. Baylor 70, Xavier 64.
Elite 8
5. Wichita State vs 3. Baylor Bears – Atlanta, GA – Sunday, March 25
Player to watch – Percy Jones, Baylor, C. In all the WhatIf Sports simulations I ran, Percy Jones was the highest scorer in most of those
games. He also got a double double in many of them. While it's not the most reliable tool – none are truly reliable – that should say something. Jones' matchup with Shockers' Goliath center Stutz will be dynamic, and may decide the game.
Baylor is tough to defend as it is. Heslip, as mentioned, is a dangerous three point shooter and if he's hot – watch out. Wichita State will have to play a very offensive game to beat Baylor. This may be the biggest shootout of the Elite 8, and in the end, three pointers count for more than an inside game. Then again, if Heslip isn't hot… Wichita State may end up in the Final Four playing a very good Michigan State Spartans team.
The Bears are a back and forth team. They choke a lot, and I mean a lot. Take the 2010 tournament, where the Bears blew a lead against one seeded Duke and lost in the Elite Eight. In 2008 they got creamed by Purdue in the first round. 2011 and 2009? They didn't make the tournament at all.
The bottom line – WSU will be pretty spent after a hard fought game against Kentucky.  But Baylor is far too inconsistent to bet on them making a Final Four appearance. Wichita State beats Baylor 77-68, who can't get threes to fall.
Most Overrated 8+: Duke Blue Devils. At number two, they're set for another disappointing Tournament run. Duke was number one last year and got beat by number five Arizona. Expect a similar result this year.
Most Underrated 8+: Wichita State Shockers. Overlooked a lot because of being a mid-major. They have Final Four qualities and a win over Kentucky will get them there.
Most Overrated 9-: Colorado Buffaloes. It was a shock to see them win the Pac-12. Their regular season play was sub par, and are no match for UNLV. Without the wins over Oregon and Arizona, neither of which are impressive themselves, Washington would be here instead.
Most Underrated 9-: Connecticut Huskies. The obvious choice, the Huskies are underseeded at number nine. It may be appropriate due to Big East play but their ability to win games during March Madness is uncanny.